woooho,
upgraded!
all the posts after this post will have at least 1 pic, (: *all most all*
and will have an emotion everyday!!!
I call the round thingie, "DOTS" yay !!!
XXXXXXXXXXXXXXXXXXXXXXXXXXXXXXXXXXXXXXXXXXXXXXXXXXXXX
Emotion of the day
I am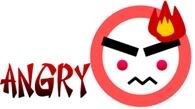 seriously, I am damn angry cause of the two *IDOIT*
they damn damn....
they are ELEPHANTS, you know elephants have thick skin?
yeap, they are damn tebal muka.
hey? Even the elephants' mother also like that!
They are DUMBOs!!!
I guess I am not supposed to say who are they, maybe I'm just too stress...or I am weird? GAHHH.
O.H.O.E
(Oh HELLO? Oh ELEPHANT!)
Holidays are life less
serious
(:
still thinking of the diabolo for MALAM BAKAT
and also the class layout, seriously, no idea and inspiration ;(
to....AdrianL
wish you can be the photographer of our class layout (:
to sujane
wish u can join diabolo, seriously (:, I'm forcing you