Ohmannn, didn't update for so long, life is just busy.
Should update bout this earlier, but whatever lah!
Last Saturday, went to CheeFai's 17 party.
I was at ambery's house like 2pm, I don't have a damn transport. If I have it, I probably go to dissect frog then go to ambery's house.
Well, 4.15pm, walked to CheeFai's house, omg, realized the distance is damn short. =.= not even 5min, Amber you should go their house when you're free eh! I will if I'm amber.
First, we saw YiTing, LiYen, YanYi, JybKen, can call them Koperasi gang (:
Went into CheeFai house, I can't say it's small, cause I didn't explore it fully ;D! But I like the style cheefai's family decorate their house! awesome.
Well, it's like a normal party, is just that we were in cheewai's room talk, play, laugh, and talk more! *Why Cheewai's bed is smaller than cheefai's?
Cheewai is taller than Cheefai eh!
Beside the pool, chit chattin.
And everything was fine until someone kena pushed and fell down into the water.
And the one was yanyi, then everyone became high! So they started to push everyone down into the poo! ;D
I like how they throw us into the pool! Sean! ;D
We keep playing till the rain start. :D
The photographer of that day!
Since it was raining outside, so we went into the Function Hall, without waiting for the late people, we start singing birthday song. (:
Awesome birthday cake.
Awesome group picture
Don't look at CheeFai, look at YingYin (Red Shirt), can help Sunsilk do advertisment edi? ;D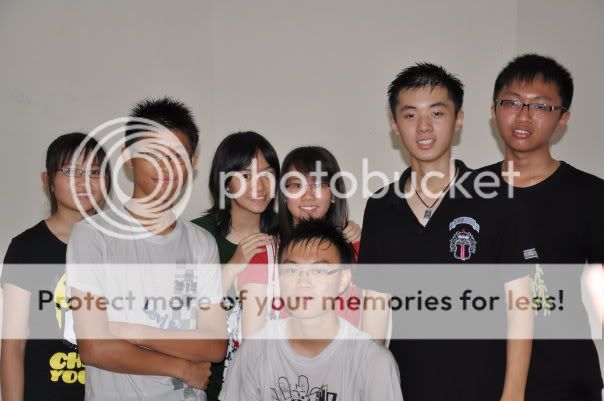 |
Koperasi Group Picture (:
The Pengawas! :O
We played with the cream of the cake, ;D especially the birthday boy.
The rain stopped, and we continue to play, but the guard potong steam, *well not going to mention that in this post, it's stupid man!*
After CheeFai opened the awesome presents, the awesome group picture we had! ;D
Awesome day, I know it's the same to everyone, I love the alcohol effect :X. See more pictures in Facebook!
Thanks to sean, liyen, yiting for the pictures (:
and at last, the most awesome picture for that day...