Went to the NOT-SO-FUN-BUT BOLEH-TAHAN Place last week, Genting last week (14 - 16 November). :) Well, conclusion for that trip is it was awesome & fun. Well, we obviously we need to have fun if we go for a trip hor? :D
Okay, let's go back to the story.
Day 1 - Day 3.
I remember Corkscrew was the first ride we play.
See the mist? :D
I tell you, Corkscrew, (or we love to call it COCKSCREW) WAS AMAZINGLY AWESOME!
Well, I like thrill rides.
We also played the Sg. Rejang thing, which made us WET. :O
And also the MINE TRAIN! It was FAST! Per ride is like less than 1 min I guess!
And not to forget bout the AWESOME FLYING COASTER, :D Paid RM10 for this. Quite worth for first time. But the ride is freaking smelly. Is like the handle is smelly and it stinks...But the Flying Coaster, which we call it Spiderman cause of its red & white patterns, was FAST, THRILL, EXCITING, AMAZING!
The Bumper Boat.....Errr.
Second Day, we went to the Snow World, which was like my second time inside.
But I actually forgotten how COLD inside.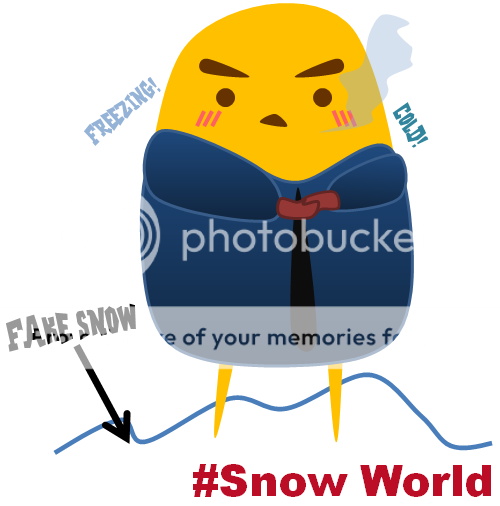 FAKE SNOW. :O. But I never see real snow before...hehe.
It was FREAKING COLD, I bet everyone was. It's not that worth after all, we were like in and out, in and out.
Took an awesome group picture, (for your info, this is a school trip to Genting) :)
Spot MEH! I'm yellow! :D
We played archery....Was fun. :D
We also watched Midnight movie, Perfect Wedding.
Well, maybe I wasn't use to Midnight Movie or whatever, I was really tiring that night, and felt like sleeping in the cinema. Well, it was kinda funny. :)
Conclusion for this Genting Trip, it was pretty fun
But after the trip, well, I feel kinda emo, I don't know what but Genting Trip, one of the best memory this year. :) Ciao.